World first: Belgium vaccinates foreign seafarers by Julie Desmet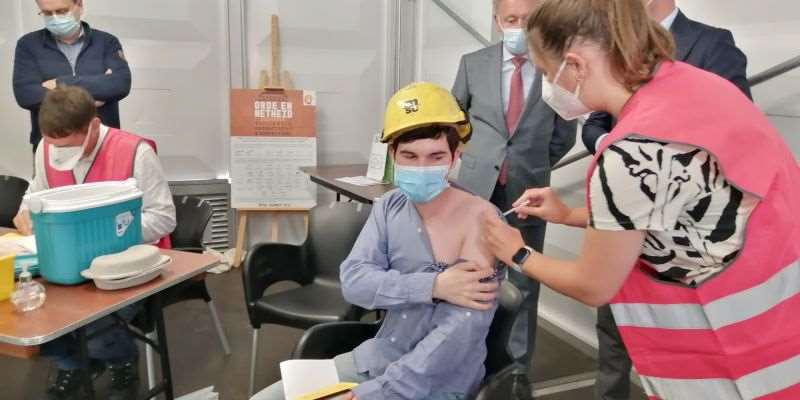 World first: Belgium vaccinates foreign seafarers
At MSC PSA European Terminal (MPET) at Kaai 1742 in Antwerp, the first foreign seafarers were vaccinated against COVID-19 today. The Russian crew of the container ship 'MSC Joy' was the first to
receive a Johnson & Johnson vaccine.
Russian seafarer receives corona vaccine at MPET in port of Antwerp – © Julie Desmet
Following the COVID-19 vaccination of Belgian seafarers, which started on 2 June 2021, Belgium is now moving up a level. Foreign seafarers – regardless of their nationality, who moor in or berth at a  Belgian port – are also given the opportunity to be vaccinated.
For this purpose, itinerant vaccination teams are being set up that will go on board sea-going vessels in the Belgian ports. Belgium is thus the first country in the world to approach the vaccination of seafarers in this way.
"If there is an outbreak on board a ship, it is a very difficult matter. These are closed communities. In addition, the shipping industry is enormously important to world trade and a corona outbreak puts  shipping at risk," says Deputy Prime Minister and Minister of the North Sea Vincent Van Quickenborne. "Together with Germany and the United States, we are the only ones taking this kind of action."
Reward
There are 1.2 million seafarers worldwide. At the height of the corona crisis, there were 400,000 sailors blocked on board. "Those people have shown tremendous flexibility. They have bitten their tongue  very hard, and we have to reward them for that," says Wilfried Lemmens, general manager of the Royal Belgian Shipowners' Association. "We may have been able to reduce that figure to 200,000, but the  delta variant has brought the number back up to 300,000. About 30% of the world's container fleet is tied up in a port for days to weeks at a time. The only way to get the world fleet sailing again is if we  vaccinate the sailors. We hope that by setting a good example, other ports will follow."
Mobile teams
More than 5,500 different ships call at Belgian ports each year, employing some 80,000 seafarers. A large  part of those people come from countries where COVID-19 vaccination is currently insufficient or unavailable. The seafarers will be vaccinated by mobile teams under the supervision of Mediport. They  will board the sea vessels themselves. A total of 8,000 vaccines are in stock.
Relaxed
Cadet Andri Shatterov from the 'MSC Joy' (pictured) is very happy with the initiative: "I have been on board for about two months now. The 'team spirit' among the crew is okay. We work every day and  remain professional, but it is forbidden for us to go into the port. That is very difficult. We don't get a chance to rest and relax in the city. I hope we will be allowed to go out now. Of course, I am especially  happy that the vaccine now protects my health in particular."
Of the Belgian seafarers, 1,500 have already been vaccinated in the meantime, which corresponds to about 70%.
Julie Desmet